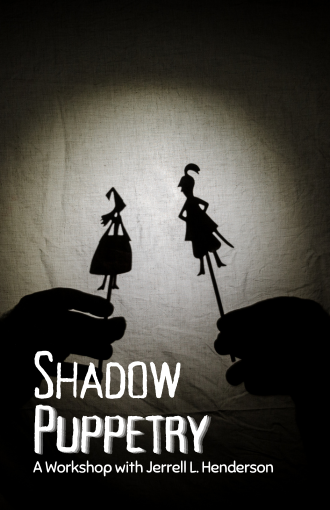 Shadow Puppetry Workshop
Explore the stunning world of shadow puppetry with Chicago director and Puppetry artist Jerrell L. Henderson.  In this class, you will learn basic techniques of artful, evocative shadow puppetry and put them in service of creating your own personal myth narrative.  This one night only workshop will take place at 51A Main Street.  
About the Instructor:  Jerrell recently presented an original shadow play titled, AmericanMYTH: Crossroads with Free Street Theatre. He collaborated with The Chicago International Puppet Theatre Festival on Little Amal Drifts Off To Sleep in Maggie Daley Park in Chicago and The Classical Theatre of Harlem and St. Ann's Warehouse on When The World Sounds Like A Prayer in Bryant Park in NYC (walkwithamal.org, chicagopuppetfest.org, cthnyc.org). Puppet short films include I Am The Bear with ChiPuppets, Hamlin: La Revue Sombre with Heather Henson's Handmade Puppet Dreams, and Diamond's Dream with Chicago Children's Theatre. His Juneteenth Puppet Protest: The Welcome Table was featured in the New York Times (June 2020) and his Fall 2020 puppetry celebration of the lives of John Lewis and C.T. Vivian titled, Black Butterfly was later expanded into an educational performance piece with Tria Smith of Guild Row and a student collective working with Urban Growers Collective on Chicago's South Side. 
Dates
Sunday, January 7
Time
6:00pm - 9:30pm
Ages
16+
Instructor
Jerrell L. Henderson
Tuition
$99